Onderwerp: Audacity en Vamp plugins.
OpenSUSE leap 42.1
Audacity werkt.
De Vamp plugins echter ....
http://vamp-plugins.org/download.html#install
Linux or other Unix
/usr/local/lib/vamp
$HOME/vamp
Wat heb ik geprobeerd ?
Als root de folder vamp, gekopieerd naar usr/local/lib
Als ik echter in audacity zoek naar plugins, dan zie ik er veel maar geen vamp.
Ik raak ook in de war van het stukje home/vamp, wat moet ik daarmee?
Iemand een idee wat er fout gaat ?
Waarom wil ik vamp plugins proberen?
Als ik het goed begrijp kan een aantal van deze plugins, als je er een mp3 instopt, laten zien welke noten er gespeeld worden.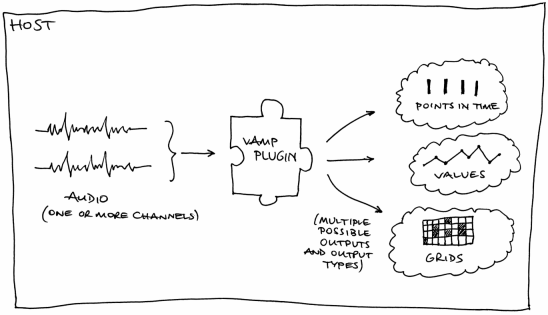 Enig sinds off topic:
Ik probeer een electro funk klassieker na te doen ( al schijnt dit nummer tegenwoordig onder hip hop te vallen), in lmms, maar loop geheel vast bij een bepaald stukje.
De vamp plugins gaan me misschien helpen.
Op het linux muscians en het lmms forum hebben ze ook niet echt een idee, wat dit zo simpel klinkende geluid is.
https://www.youtube.com/watch?v=IaNzrXAUHBk
Het geluid op oa 1.46 m.
De liefhebbers herkennen vast de TB 808 geluiden zoals de cowbell, die standaard met lmms mee komt.
Het is mogelijk, dat dit riedeltje gespeeld word door een TB 303, The Newclues hadden namelijk een tb 303 en een tb 808, maar ook andere zynths/ keyboards.
Tot slot, dit nummer was gemaakt om de draak te steken met rap en dj's die scratchen.
The Newclues deden mee aan een dj battle, en daarna kwam er iemand naar hen toe en die zei, yeah you guys clearly won, but you cant do wikki wikki wikki. ( Hij deed dus het schratchen na )
Voor andere met mijn afwijking. Een interview met de Newclues ( 4 delen)
https://www.youtube.com/watch?v=W1UFt7e3KEk
Iemand met vragen over het tb 808 patroon van dit nummer ?
https://www.youtube.com/watch?v=1DMID6wL6lU
Helaas heb ik geen midi file kunnen vinden.
Computer games don't affect kids. I mean if computer games had affected us as kids, we would all be running around in a darkened room, munching pills and listen to repetitive music.